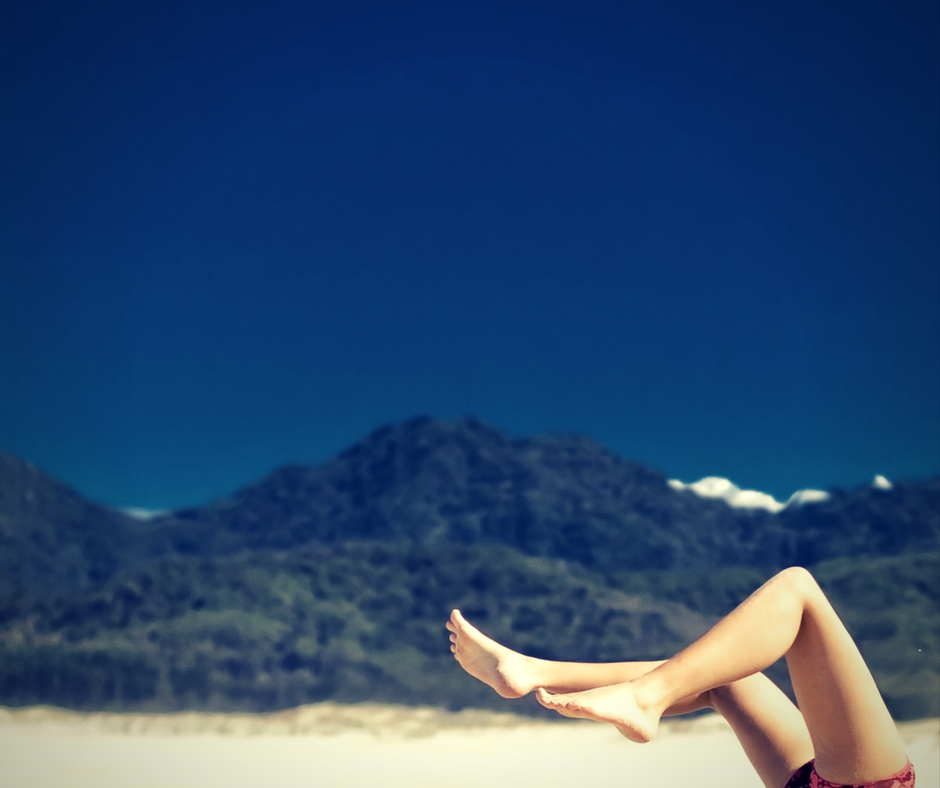 If you want to have slim and beautiful legs, the SNSD leg workout is the best way to success. Learn from Girls Generation, how you too can show off beautiful legs this summer and beyond. We surfed through the internet, watched videos and read interviews from Jessica, Tiffany, Yuri and all remaining members of SNSD to combine all the information that are out there about the SNSD leg workout. We added a couple of highly affective leg exercises on top of our finding and combined everything to the perfect workout, which will help you to get SNSD legs.
The SNSD leg workout
Lets dive right into the SNSD leg workout. It is incredible how Kpop idols sustain their good looks. They exercise a lot and make sure to stay on top of their game. You need a lot of motivation and willpower to do this for such a long time as Girls Generation. The members have been in the industry for many years and they still look amazing.
In this article we will talk about the workout routine that the SNSD members go through to achieve those beautiful legs. But a good workout can only bring you so far. Thats why you should also take care of your eating habits and therefore you should apply the SNSD diet, which will help you to loose these nasty extra pounds.
But for now lets focus on the SNSD leg workout that makes their legs so pretty and thin. What do they do to maintain those legs? We watched and read everything we could find about their exercising methods and put everything together for you.
The following video is a good starter for your SNSD leg workout:
This 3-5-2 workout is definitely better than doing nothing and will get some results for you. But it is really not enough to get your legs in the shape you want them to be.
Therefore we decided to add some additional leg exercises that can help you to get beautiful legs like Girls Genration. Here is the full workout plan that you should follow, if you want to get SNSD legs:
15 Hip kicks
20 Squats
10 Lunges
15 High knee
10 Hip raises
15 Thigh Hover
20 Inner thigh lift
10 Side plank
1. Bonus: Take the stairs. Wherever you go, always take the stairs instead of the elevator. Your legs will thank you for it later.
2. Bonus: Wear high heels to make your legs look longer and more toned. 😉
To recap: For you to get beautiful legs you have to follow the SNSD leg workout, do the SNSD diet and wear a pair of high heels. We are sure that  you will look amazing.
If you need the right workout music for your SNSD workout, you should definitely try the following one. By the way, some of the choreographies in this video are actually perfect as additional leg exercises.
If you need some motivation to get started with the SNSD leg workout or some more tips on how to get to your dream body, these seven SNSD diet lessons might be exactly what you are looking for.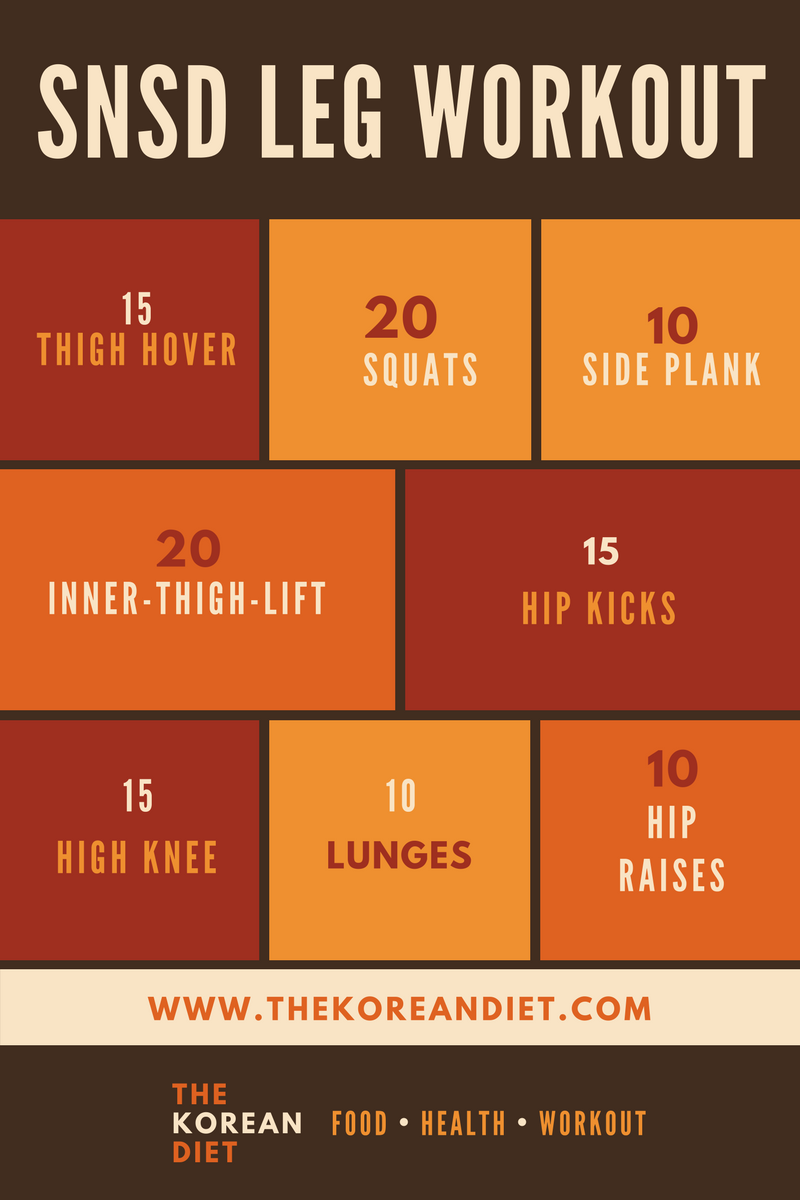 We are sure this SNSD leg workout and the additional tips will help you to get your legs into shape fast. Let us know in the comment section below how you are doing with this workout or which kind of workout you are doing to get yourself into shape this summer. Good luck and keep grinding. Also, make sure to check out our Korean diet book and let us show you, how to lose weight like a Korean celebrity.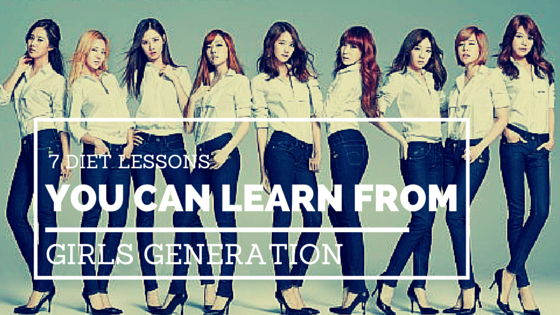 The girls from SNSD are not only famous for their wonderfully bubble gum like music, but also for their fascinating ways of dieting. We talked about the SNSD diet before and decided, due to great demand, to give you more information on this particular Kpop diet. We decided to start it off with 10 diet lessons we all can learn from Girls Generation. There will be more content in the future, but let's get started with this list of actionable weight loss advice.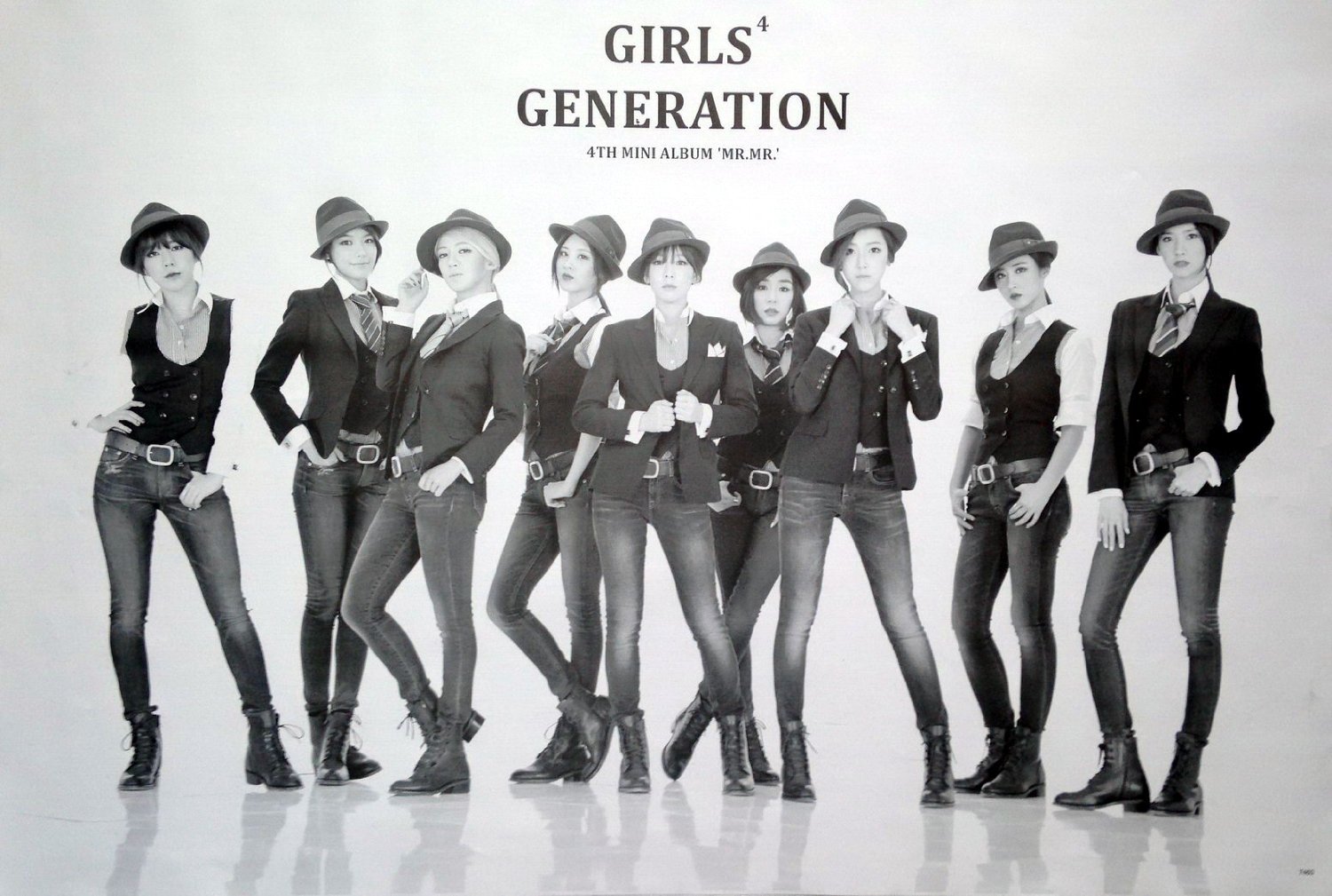 1. The right amount of food matters
You will not lose a considerable amount of weight, if you are not able to control your meal portions. You have to be as strict with yourself as Jessica was reportedly with herself by only eating half an egg instead of an entire one. This might sound crazy, but it shows that you have to limit your portions.
2. Eat more than 3 meals a day
Tiffany went on record and said that the girls "definitely eat more than 3 meals a day" and specifying it by adding that "We eat 5 meals a day." Which is reasonable and understanding if you take in consideration that they workout a lot. So rather go for five small meals than for three big ones. According to research, it is very healthy to spread out your meals throughout the day.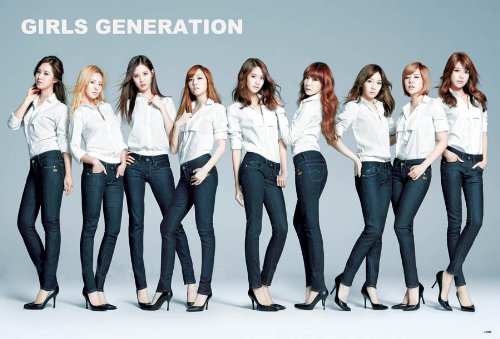 3. You have to exercise
Hyoyeon mentioned that the girls "exercise when we think we have gained weight". I think that this is quite an understatement though. Because the girls are busy with their dance workouts every day and this is a fantastic way to burn some calories. Tiffany also does yoga which seems to help her quite a bit to stay in shape.
4. Genetics and metabolism matter
A strict diet and a hard workout regime will not have the same results for everybody. All members of Girls Generation seem like they have the perfect metabolism. But not everybody is that lucky. So it might take you some more work than it takes them.
5. Drink a lot of water
Tiffany said in an interview with Elle Magazine that she drank 1500ml of water everyday before a video shooting. It is also backed by scientific research that the right amount of water can have a big impact on your weight loss goals.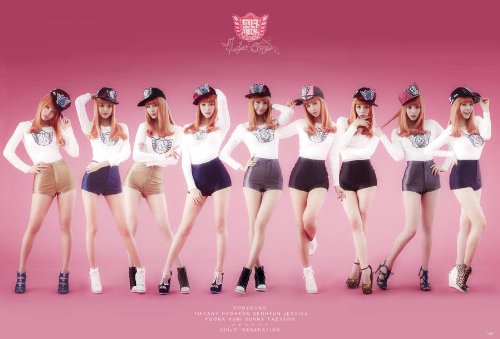 6. You are not a girl group member (supposedly)
When starting your diet, you have to take in consideration that you don't have the same schedule as the girls from SNSD. You don't have to make it through 3,5 hours of a dance-heavy show on a regular basis. Meaning. you have to adjust your diet to your life.
7. You need a good motivation
Some of the girls don't have to worry about staying in shape at all. Others such as Jessica and Tiffany did have to put a lot of effort in their diet. And they did it because they knew they had to. They wanted to look good n their videos and on their tour. They were really motivated. You will need a very strong motivation as well.
Let us know what you think about these lessons and please don't hesitate to share your weight loss lessons with us in the comment section below.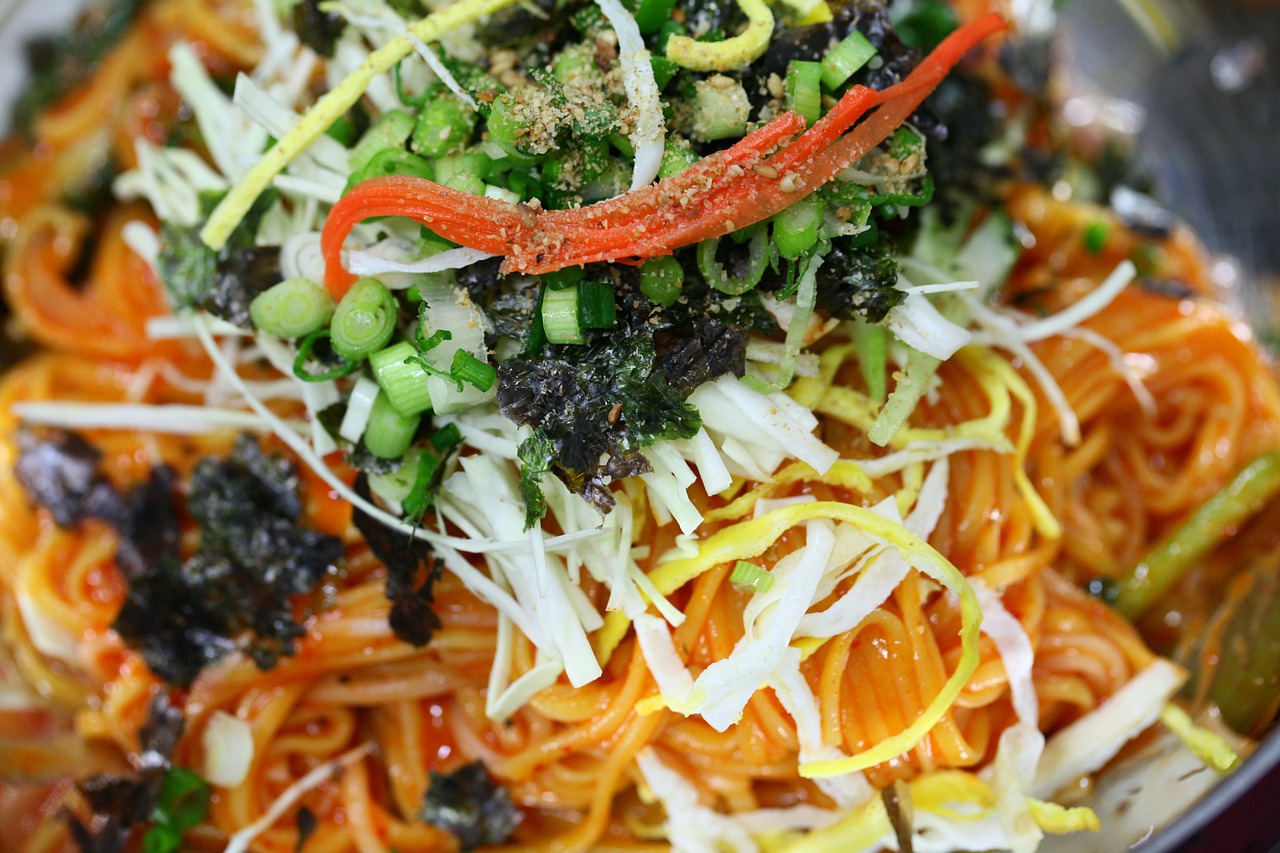 What exactly is the SNSD diet and is it the right thing for you to do? We all love "Girls Generation" and they just look amazing all the time. But their looks are the results of hard work. If you are willing to put some work into it and if you follow our Korean diet tips, you should be in for an amazing body transformation.
The girls tried out different diets over the last years and they obviously changed their workout routines in the last years. When they started out they were really skinny. But now they are actually very fit and look healthy. And this is what you should aim for. We dont want you to lose weight like crazy and get ill during the process. We want you to find the right balance between eating habits and workout routines. Just like SNSD did it.
The SNSD diet will therefore only feature advices that will benefit your health and body weight. We don't think that it is all about losing weight. And "Girls Generation" have actually proven that over the last years. So lets jump right into the girl's diet.
Each of the girls has their own diet, because everybody has a different body type. Jessica has a different diet than Tiffany and so do all the other members. Therefore it is difficult to figure out a SNSD diet which is right for everybody. And they don't talk much about their diet. So we decided to mix up all the information we got about their diet and help you to get the best of everything.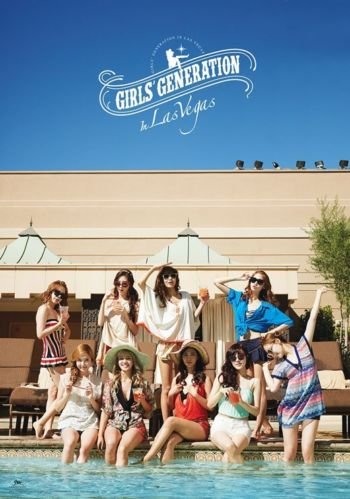 Much has been said and written about the "800 calories diet" which "Girls Generation" has been through. And I don't argue with the fact that it probably works for some people. But I wouldn't recommend it. Because their are better ways to lose weight and at the same time make sure that you get all your minerals, vitamins and energy. I am pretty sure that the girls went through this horror to stay competitive in the industry. But you dont have to do that and the girls have changed their minds about diet in recent years. And so should you. If you only take one thing away from this article, than please make it that fit is the new skinny.
Take in mind that the girls need a lot of energy to perform their shows and trainings. You might not have to do that but you should consider that you have other things to take care of. Such as school, university or work. And you will need your energy. So make sure that you eat right. That being said, lets look at a meal plan that can work very well for you.
We know that there are meal plans out there that tell you to eat only an apple or a banana for breakfast. But this is not the path we will recommend here. We will get you a SNSD Diet plan which will actually work. And which can be followed for a long time without jeopardizing your health. To make this meal plan work, you have to make sure that you go for small portions. Not as small as the paper cup diet portions but also not as big as the McDonals portions.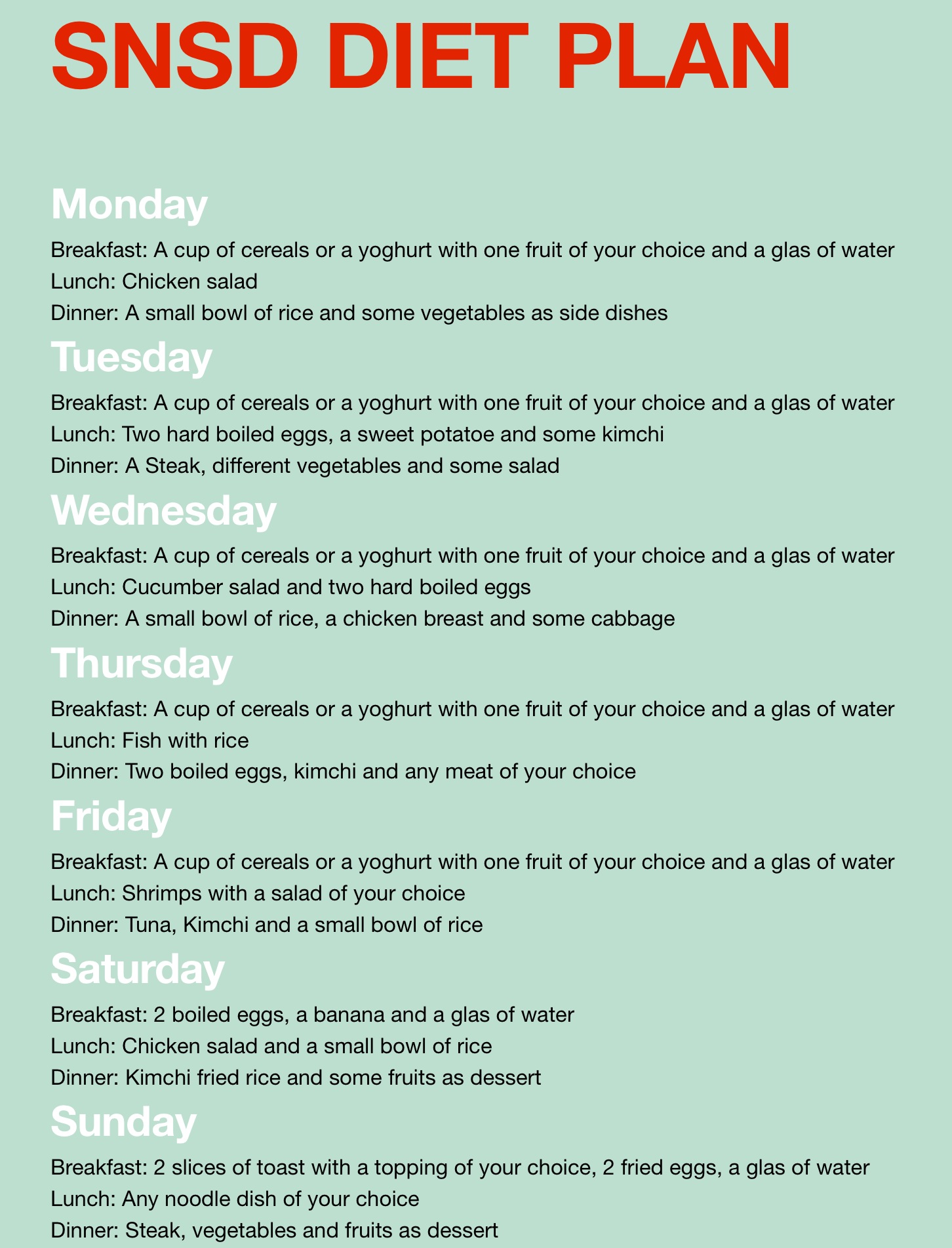 You dont have to follow the meal plan in detail. But you should make sure that your meals look very similar. Because this will give you enought energy and help you lose weight. But if you want to look like Tiffany or Jessica you cannot only depend on your diet. You also have to think about your workout. Because without a good workout you will not reach your goals.
If you want to learn more about, on how to lose weight like a Korean, our Korean diet book is for you. In our book you will finally learn how to lose weight, while eating delicious Korean food.
How could a SNSD workout look like?
We have two videos for you which should help you to get an idea about a possible workout routine. Watch them closely and implement the exercises into your daily routine.
The first one will help you to get those beautiful thighs. We tried out this workout for a week and we love it. It works your thighs and challenges you right away.
The second video gives you a an idea about what Yuri does in the gym. We think that you don't neccessarily have to go to a gym to do some of the exercises. But if you have the possibility to use a gym you should defeinitely go for it. It will make your journey much easier. And you will meet people with similar goals. And that will make your life easier.
What are your thoughts after watching the videos? Do you think you can do it? We are sure that you can lose weight with the SNSD diet in no time. It will not happen over night. But after some weeks you will be a different person. With a body that will look beautiful. A body you can truly be proud of. And we are not talking about a skinny body. We are talking about a fit and healthy one. Don't forget to check out our Kpop diet guide, if you want to know more about how to make your diet work for you.